Enclave:11 Named in Leading ITO Enterprises' List of VNITO Award
Danang, Vietnam
October 21, 2015
Technology Resources Vietnam Limited – Enclave:11 (TRV-Enclave:11) has been named in the Leading ITO Enterprises' list of the 2015 Vietnam Outsourcing Excellence Award during the Vietnam Information Technology Outsourcing (VNITO)'s first annual award ceremony. This is also the first time TRV-Enclave:11 has been awarded an honor after years of excellent performance.
The award ceremony was held by the VNITO Conference in order to recognize and honor ITO/BPO enterprises which have excellent business result in terms of products/services, growth and revenue, and significantly contribute to the development of Vietnam IT-Software industry. In addition, the award winners will be promoted and supported to approach international business partners and markets.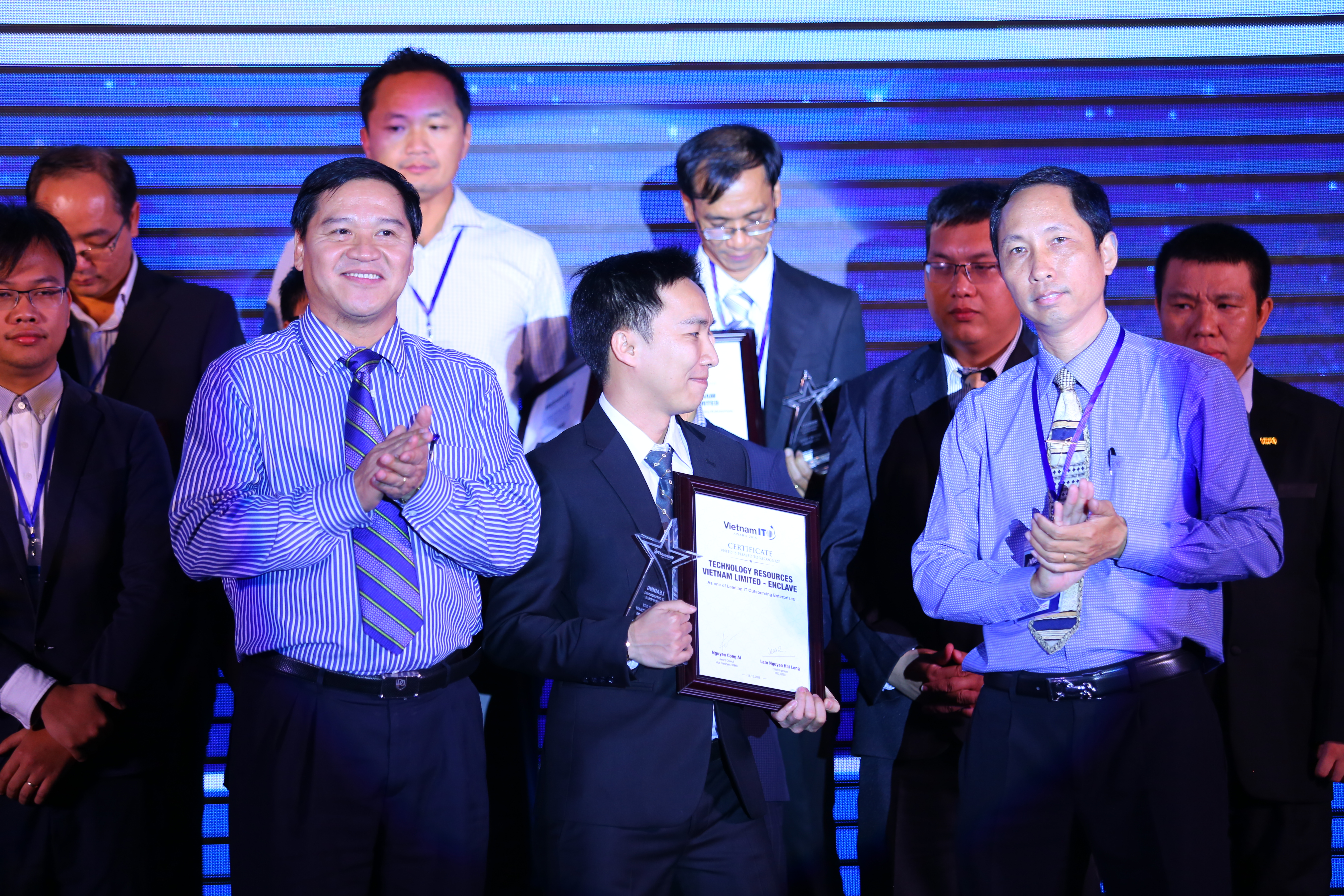 Mr. Danh (Dan) T. Huynh, Enclave:11's Director of Engineering, received the trophy and certificate of VNITO Award 2015
The VNITO 2015 aims to network Vietnamese software outsourcing companies, boost the development of IT and business outsourcing, and enhance Vietnam's reliability as a promising outsourcing destination.
Founded in 2007 with 44 engineers and staff, Enclave:11 has grown and reached over 200 employees in 2015 with greater than 20 percent average revenue growth in 2012, 2013 and 2014. It is not only the contribution from the engineers and the board of management, but also the clients' trust have helped Enclave:11 achieve this milestone. In eight years providing off-shore development, Enclave:11 engineers have served many clients internationally from Australia, China, England, India, Malaysia, Singapore, the United Arab Emirates, and the USA. These clients are big names in IT, IT solutions, and IT outsourcing industries.
With all the achievement above, Enclave:11 meets the award qualifying criteria to stand in Leading ITO Enterprises' list this year. The recognition from VNITO not only affirms Enclave:11's position as a Leading IT Outsourcing company in Vietnam but also proves that the company's continuous growth over the years. Besides that, this is a great chance for Enclave:11 to attract potential clients, expand market share and increase company's reputation in IT Outsourcing.
About VNITO
Organized by the Quang Trung Software City and Ho Chi Minh City Computer Association, VNITO is the Vietnam's biggest IT outsourcing conference. Its main purpose is to promote Vietnam as an emerging IT outsourcing destination and create an effective business matching platform for buyers and Vietnamese IT outsourcing vendors. This event attracted more than 150 multi-national and high-tech companies from over 20 countries, 200 top Vietnam offshore software outsourcing companies and 20 IT universities. For more information, visit: http://vnito.org/.
Enclave:11 in other news: http://bizhub.vn/corporate-news/13427/awards-honouring—2015-viet-nam-it-outsourcing-excellence.html